The Northern Virginia Bird Club provides scholarships to young birders who may be interested in attending summer camps workshops, training programs and other bird related activities. Funds have now been made available for the Val Kitchen's Memorial Youth Birder Scholarship.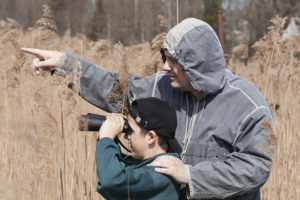 Boy Birding with Dad
The deadline for submitting applications is  February 1 2017.
Here are some simple steps you need to follow:
Look for Camps or birding events you may want to attend Birding Camps and Activities
Review the Scholarship Guidelines  Scholarship Application Guidelines
Register Now (Registration Form) and you will receive a Scholarship Application Form
Contact a teacher, NVABC member or birding trip leader to write you a letter of recommendation
Write a single page essay (Do not exceed 500 words) describing your goals
Submit your completed package to NVABC – including Your essay, Completed application form, and Letter of Recommendation
By: email to the Club at Webmasternvbc@Gmail.com
or by Post mail to:
Northern Virginia Bird Club,
Attn. Scholarship, P.O. Box 5812,
Arlington, VA 22205-0812.
Scholarship winner(s) will be announced around April 1, 2017
Members, teachers, parents, and educators here is a great opportunity to let your young members know that the Northern Virginia Bird Club has approved a grant that will provide financial support to a young birder. A young person from 13 to 18 years of age, may attend a VSO activity, a birding camp, or a similar activity with the funds provided.
We are seeking applicants for a scholarship of up to $500.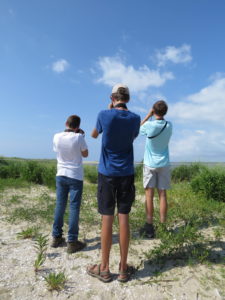 Club members, please help spread the word and support a young birder learn more about the wonders of birding and about this great opportunity !!
Interested parties may call or David Farner at 443-643-6141 or Ghazali Raheem at 703-563-3810, or send email to the club at Webmasternvbc@Gmail.com or contact other Officers or Directors listed in the Club Contacts list in the Siskin newsletter.
Previous winners of this Scholarship are not eligible to apply.
Good Birding and Good Luck !!!